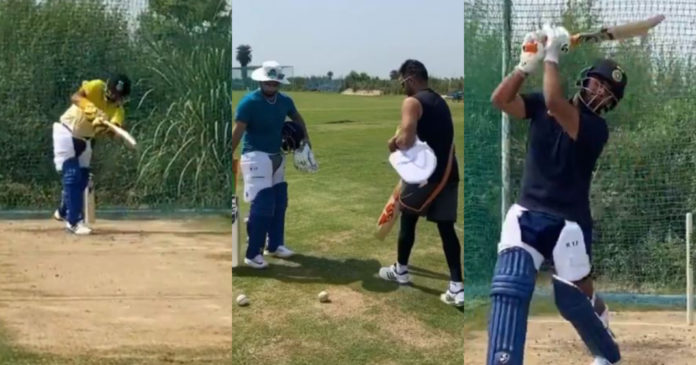 On 15 August 2020, Suresh Raina announced his retirement from international cricket, ending speculations of him challenging for a spot in India's squad for T20 World Cup 2021. Since then, things have not been too good for him on the field.
Raina, who was dropped from playing XI in IPL 2021 owing to his poor run with the bat, went unsold in IPL 2022 auction. It was a bit shocking to see someone who has scored so many runs and made numerous records in the tournament couldn't attract a single bid, even from his former franchise CSK.
There were also rumours that Mr. IPL could Gujarat Titans as a replacement for then-injured Jason Roy. However, that too didn't end well on Raina's part as Gujarat's management had no such plans.
Now Raina posted a video of him on the micro-blogging platform Twitter, where he was seen doing some batting practice in Ghaziabad. This might be hint that the left-handed batter is willing to make a comeback in the lucrative T20 league.
However, the fans ended up drawing two logical reasons behind Raina resuming his batting practice. Here are the two reasons that were drawn by the netizens:
1) IPL Return
Suresh Raina is just 35-year-old which is quite young as IPL has many players surpassing this age bar. Given his experience, a team wouldn't mind having him in the squad, even if used as a backup. Though Raina has retired from international cricket, he might be willing to making a comeback in the league where he dominated for many years.
The Duldeep Trophy is scheduled to begin in September, followed by Syed Mushtaq Ali Trophy (SMAT) and Vijay Hazare Trophy. Raina can utilize the domestic leagues to showcase his worth and get a spot in IPL 2023. If he does well, one can expect a couple of teams running behind him in the IPL 2023 auction.
2) Retirement from IPL and participate in foreign leagues
Another option that Suresh Raina can try is to get NOC from BCCI to participate in foreign leagues. However, it can be gained only if Raina decides to quit the IPL as per the rule set by BCCI. The expansion of new T20 leagues like SA T20 League, The Hundred, UAE ILT20 might excite the former Indian cricketer as the paycheque is good enough and holds relatively less pressure than IPL.
It will allow him to continue play the sport he loves the most and participate in leagues as per his availability and mood. Even the famous Big Bash League (BBL) is yet to finalize its squads for the upcoming season, and Raina could draw some bids for himself.