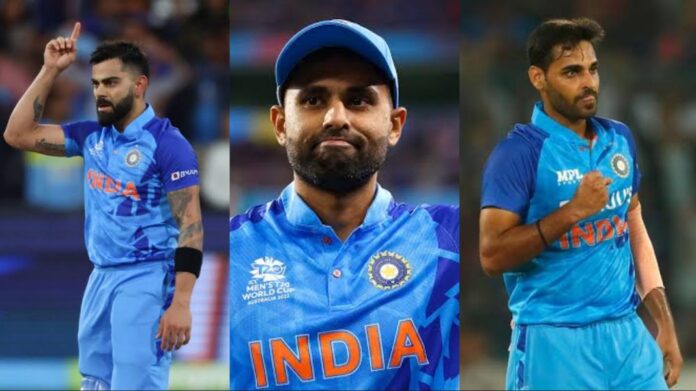 2022 was the year of T20I cricket. Because of T20 World Cup 2022, all nations prioritized the shortest format of the game and played a lot of T20I matches. India played a lot of series as well. Their first T20I series was against West Indies at home, followed by Sri Lanka at home. After IPL 2022, India hosted South Africa for a five-match T20I series.
India then visited Ireland, England and West Indies, playing a total of 10 T20Is. Then, India participated in Asia Cup 2022, where they finished third. India then defeated Australia and South Africa in home T20I series but lost in the semifinals of T20 World Cup. Their last T20I series was against New Zealand, which ended in 1-0 in India's favor.
In this article now, we will form the best XI of Indian cricketers who performed brilliantly in T20Is this year:
Openers – Rohit Sharma and Ishan Kishan
Captain Rohit Sharma will open the innings for the team along with Ishan Kishan. Rohit scored 656 runs in 29 innings at a strike rate of 134.42. Ishan did not play in T20 World Cup, but he aggregated 476 runs in 16 innings, smashing three fifties.
Middle Order – Virat Kohli, Suryakumar Yadav and Shreyas Iyer
The middle-order of this team features Virat Kohli and Suryakumar Yadav, who were the top two run-getters for the Men in Blue this season. Shreyas Iyer will bat at number five. Iyer played 17 games, scoring 463 runs at a strike rate of 141.15.
All Rounders – Hardik Pandya, Deepak Hooda and Ravindra Jadeja
The three all-rounders of this lineup will be Hardik Pandya, Deepak Hooda and Ravindra Jadeja. Pandya was India's MVP with 607 runs and 20 wickets in 27 matches. Hooda scored 302 runs in 15 innings at a strike rate of 150+, while Jadeja took five wickets and scored 201 runs in nine matches.
Bowlers – Bhuvneshwar Kumar, Arshdeep Singh and Yuzvendra Chahal
The top three wicket-takers for India in T20Is this year were Bhuvneshwar Kumar, Arshdeep Singh and Yuzvendra Chahal. Kumar topped the charts with 37 wickets at an economy rate of 6.98, followed by Arshdeep with 33 wickets in 21 matches and Chahal, who took 23 wickets, with his best figures being 3/20.