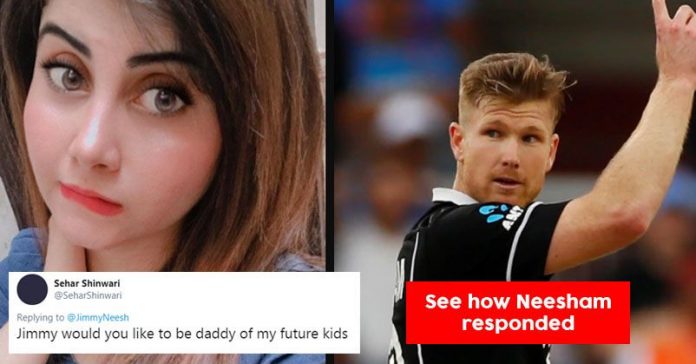 Jimmy Neesham Replies to a Pakistani actress who asked him to father of her future kids
New Zealand's star all-rounder, Jimmy Neesham is best known for his all-round performances on the field and his Twitter game off the field. Over the years, the Kiwi player has given fitting replies to the ones who tried to troll him, while his wit has helped him silence all the Twitter users who try to be smart with him.
He performed exceptionally well in the 2019 ICC World Cup which is why IPL franchise, Kings XI Punjab, gave him a contract earlier this year. Unfortunately, before he could make his return to the cash-rich tourney, the Coronavirus pandemic hit the world as there is no cricket action going on anywhere in the world.
However, the cricketers have tried their best to entertain the fans via their social media accounts. They have come on Instagram live sessions and podcasts to show some new avatars of themselves.
Also Read: Ravindra Jadeja's awkward conversation with Sarah Taylor goes viral on the internet
Coming back to Neesham, the cricketer had brought his 'A' game to the table on the micro-blogging website when a Pakistani actress asked him to be the future father of her kids. The TV actress named Sehar Shinwari wrote:
"Jimmy would you like to be the daddy of my future kids."
Jimmy would you like to be daddy of my future kids 😉😜

— Sehar Shinwari (@SeharShinwari) August 28, 2019
Surprisingly, Neesham preferred to give her a reply in public as he stated that if she was serious, the emojis she added in her tweet were totally unnecessary. Here's what he replied:
"I really feel like the emojis were unnecessary,"
I really feel like the emojis were unnecessary https://t.co/tH3g0jCWe4

— Jimmy Neesham (@JimmyNeesh) August 28, 2019
Thus, in this manner, the all-rounder once again showcased his sense of humour on social media. It is not known when will the cricket action resume once again as the cricket universe awaits their favourite cricketers to be back on the field soon. Many fans expect that IPL 2020 will kick start the new season of cricket once this pandemic ends.