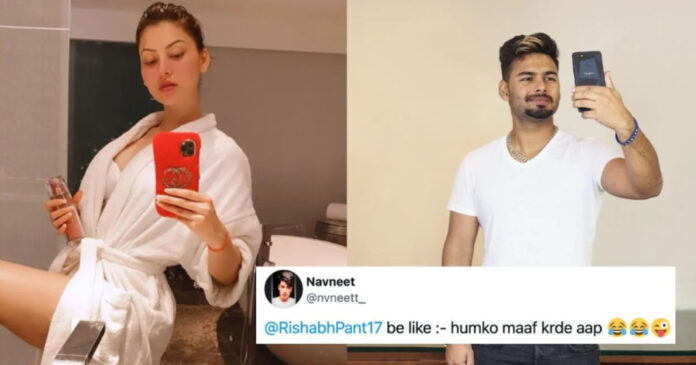 Many cricketers have found their name attached to a Bollywood actress in the past and it's nothing new for the fans now. However, the buzz around the duo of Rishabh Pant and Urvashi Rautela is something different. It's infamous because of past controversies and undisclosed complicated relation.
As per reports, the pair used to date each other before splitting up and making a fair distance. No side of the parties ever revealed what exactly happened and why they decided to part ways. This made the fans more curious about their relation and often they poke the either side by talking other person's name.
Recently a big controversy sparked when Urvashi indirectly narrated a story of a person named 'RP' who waited to meet her for long hours. The fans claimed that person to be Indian cricketer Rishabh Pant. Following the interview, Pant took to Instagram to reply the Bollywood Diva who he thought was using his name for fame.
Next then, a couple of replies followed from both the side taking a dig at each other. Though Pant never used her name, Urvashi was wide open in her approach as she took direct dig indicating at the wicketkeeper batter. Surprisingly, she even uploaded a birthday post on Pant's birthday.
Now as we all know that Rishabh Pant has travelled to Australia with Team India for T20 World Cup 2022. Shockingly, Urvashi has again uploaded a post where she seems talking about Pant. She said that she followed her love and it led to Australia, where Pant is currently staying.
Rishabh Pant or Dinesh Karthik?
Team India have a dilemma ahead of the marquee event as they need to select one between Rishabh Pant and Dinesh Karthik for the lower-middle order role. Both of them would be a hard fit as the Men in Blue wouldn't want to line-up with only 5 bowlers.
Dinesh Karthik seems to be the preferred fit for the role as he has ample experience of finishing games and has been in top-notch form. If any unforeseen circumstances occur, Pant would be a straight walk into the XI.