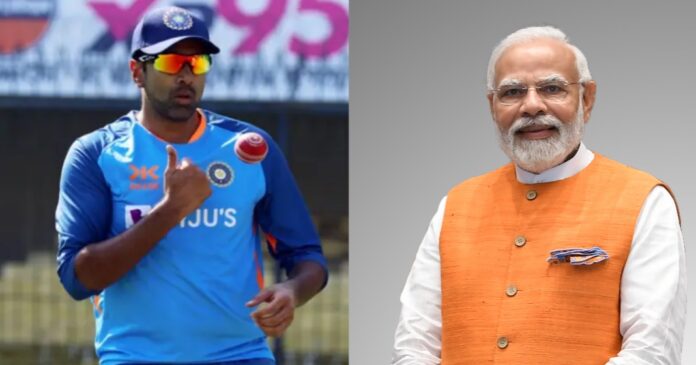 Ravichandran Ashwin, the veteran Indian cricket team spin bowler, has engaged with a parody profile impersonating India's Prime Minister Narendra Modi on the social networking site X also famously known as Twitter.
The account, identified as @NarendraModiPa, left a comment on one of Ashwin's posts, extending congratulations to ISRO for their successful Chandrayaan-3 moon landing.
In a recent development, Chandrayaan-3, ISRO's third lunar mission, executed a smooth landing on the lunar surface on August 23, Wednesday. This triumph has positioned India as the fourth nation globally to deploy a rover on the Moon and the pioneer in landing at the Moon's southern pole.
Prime Minister Narendra Modi characterized the feat as a "historic milestone," signifying the commencement of a prosperous era for India. This momentous accomplishment garnered best wishes from numerous cricketers, including Ashwin among them.
On July 20, 2023, Ashwin conveyed his admiration for ISRO's achievement on platform X, expressing, "This is a historic achievement. Heartfelt congratulations to @isro. #JaiHind."
Responding in jest, the satirical account attributed to the Prime Minister commented, "Heartiest congratulations to all Indians ❤️ and a big thank you to ISRO for making this remarkable feat a reality."
Seizing the opportunity for humor, Ashwin wittily replied, "Sir, how have you been? I'm truly elated by your response to my tweet. It's a privilege." This playful retort sparked a wave of excitement in the cricketing sphere, resulting in the emergence of memes that playfully poked at the notion of the astute cricketer being taken in by a parody account.
Sir how are you? I am so glad you replied to my tweet. I am honoured 🤩

— Ashwin 🇮🇳 (@ashwinravi99) August 23, 2023
A follower chimed in, "Seems like most missed the sarcasm," prompting Ashwin to clarify the intent behind his response with a laughing emoji.
😂😂

— Ashwin 🇮🇳 (@ashwinravi99) August 23, 2023
Meanwhile, Ashwin has found himself sidelined from India's limited-overs lineup and was omitted from the roster for the Asia Cup 2023, a decision attracting significant criticism. Despite his last One Day International appearance for India dating back to January 2022, Ashwin participated in the T20 World Cup later that same year.