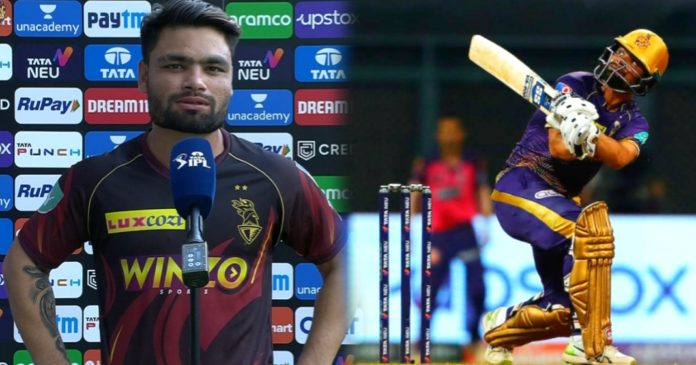 Kolkata Knight Riders batsman Rinku Singh, 24 years old, was waiting for his chance in IPL for many years and when he got it, he almost kept his team's hopes of making it to the playoffs possible, which was only shattered in the last over against Lucknow Super Giants.
Rinku had to spend most of his time sitting on the bench during the past seasons. But he never stopped, kept on working hard and finally, it was the 2022 season of IPL where he got to display his talent. Rinku is one of those player who can change the course of the game at any time in the middle order.
He bats with the left hand and has a remarkable ability to hit the shots. The player hails from Aligarh in Uttar Pradesh and after his heroic show last night, he recalled his struggles of life.
There was a time in his life when he did not see much opportunities for himself and he was also worried about his career due to injury. The left-hander after last night match stated that at least five years in his career have gone through tough times but he hasn't stopped believing in himself.
In 2018, Kolkata Knight Riders bought Rinku Singh in the mega auction but the young batsman could not live up to the expectations. He was a part of Kolkata Knight Riders for 4 seasons but did not get much opportunities to play. 2021 was the time when he suffered a knee injury and was unable to take part in the first part of the Indian Premier League 2021.
Rinku said that when he got opportunities to play for KKR previously, he failed to live-up to it, but still, KKR showed faith and belief in him and was retained all the years. He added that he worked hard, but got injured last year while playing in the Vijay Hazare Trophy.
He continued that he needed a surgery, which would keep him out for 6 to 7 months. He revealed that his father did not eat food for 2 to 3 days and he had to explain him.
"My father didn't eat for 2-3 days, I'm the sole breadwinner of my life and when such things happen, it is bound to be worrisome," said Rinku.
Rinku Singh has shown tremendous talent with his performance in IPL 2022 and has scored 174 runs in seven matches with a staggering strike rate of 148.71 and an average of 34.0.
On Wednesday, in KKR's bid to stay alive in the top 4 race, Rinku Singh managed to score 40 runs in 15 balls and almost won the match for his team. But unfortunately, KKR lost by 2 runs, chasing a big target of 211 runs.