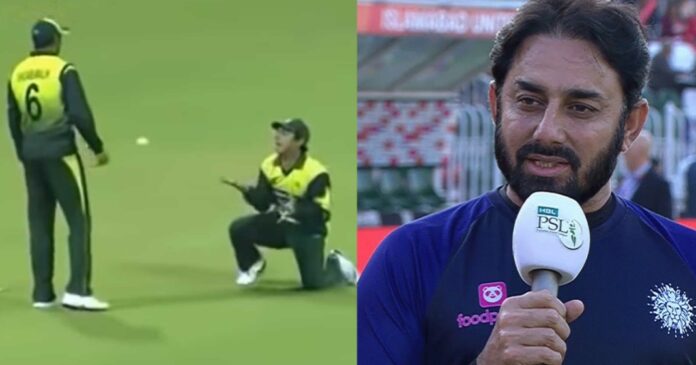 Former Pakistan cricket team off-spin bowler Saeed Ajmal has opened up on the infamous and meme material catch that was not converted after a miss communication between both Ajmal and Shoaib Malik.
Saeed Ajmal recently talked about the Pakistan vs West Indies series that happened back in 2008 in the United Arab Emirates (UAE) when Chris Gayle dominated the series.
Ajmal was part of the Pakistan cricket team squad in that series and did play a key role for the Men in Green. While speaking on the Nadir Ali podcast, Ajmal revealed what really transpired between him and Shoaib Malik during the infamous catch attempt.
Speaking about the incident, Saeed Ajmal revealed that after Chris Gayle hit a big shot but couldn't connect it properly, both him and Shoaib Malik ran for the ball. "During the match, Gayle hit a big shot. The ball went high in the air. I came running for the catch. Even Shoaib Bhai (Malik) came," he said.
He continued that Malik shouted for the catch and so he decided to sit down so Malik can take the catch but he also left it. "Shoaib shouted 'Yes'. So I sat down. When I sat down, Shoaib also did not attempt. After the incident, Shoaib told me 'What did you do?'" Ajmal added.
"I told him 'You shouted Yes'. Shoaib told me, 'That does not mean you do not try for the catch,'" he further revealed. Ajmal added that he feels embarrassed whenever he watches the video, but also at the same time feels happy that the fans remember him for the infamous incident, which is a huge meme material for the people on social media.
Amit Mishra came pretty close to Saeed Ajmal with that drop catch of Uthappa #IPL pic.twitter.com/x6GjvkDuW1

— Shubh Aggarwal (@shubh_chintak) April 28, 2017
"Every time I see that, I feel embarrassed. But still I think people remember me in the list of most funny dropped catches. I feel it's okay, at least people remember me for some reason," Ajmal signed off.