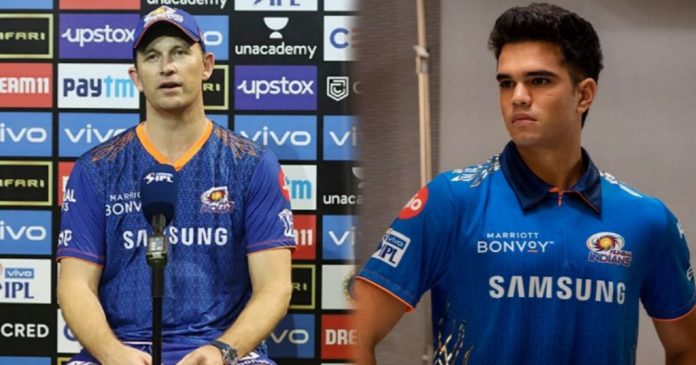 The Indian Premier League (IPL) 2022 season was a forgetful season for the most successful team in the competition, from being eliminated first to finish at the bottom of the points table. And even though they tested a number of players, they didn't gave that opportunity to Arjun Tendulkar, finally Shane Bond has revealed why.
The Indian Premier League (IPL) 2022 season was promised to be quite a exciting one with 2 new teams, Gujarat Titans and the Lucknow Super Giants joining the competition. And it did turn into reality as well when Gujarat lifted the Trophy in their just debut season.
While the newcomers impressed everyone, the most successful team, Mumbai Indians, Chennai Super Kings and Kolkata Knight Riders failed to make it to playoffs, though KKR kept their hopes alive till last match.
But, for Mumbai Indians, this was a season that the players and the fans would want to forget. From losing 8 straight matches, to being eliminated first and then to finish at the bottom.
During the season, Mumbai tested out a total of 21 players out of 24 players. However, it was quite shocking that Mumbai didn't gave an opportunity to Sachin Tendulkar's son Arjun Tendulkar, who was made to sit on the bench throughout the season. Fans were quite as to why he is not being tested out.
Now finally, Mumbai Indians' bowling coach Shane Bond has revealed why Arjun Tendulkar was not given an opportunity this season. The Kiwi stated that Arjun will have to work hard to make his way into the Playing XI.
The New Zealandar said that it is easy to make it to the Mumbai Indians' squad, but not the Playing XI. He also added that Arjun needs to work hard on his bowling and batting aspect.
"He's got some work to do. When you are playing for a team like Mumbai, it's like one thing to make the squad, but to make the playing eleven is another. he's still got some work to do on his batting and fielding in particular," Shane Bond said in an exclusive interview with Sportskeeda.