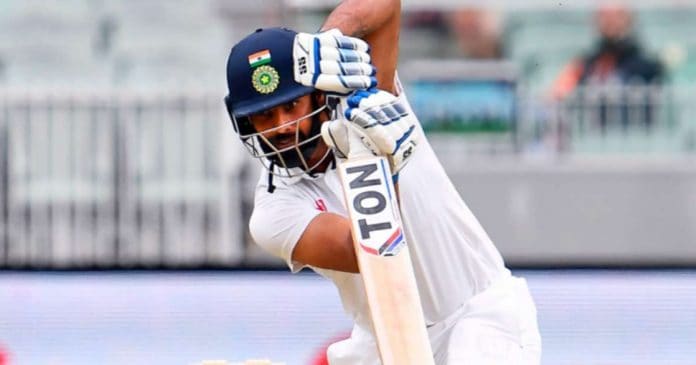 The Indian cricket team's squad for the Test series against New Zealand has been announced today, where some players have been rested, India's hero from Australia series, Hanuma Vihari has been dropped for the New Zealand series.
As it was known, the Board of Control for Cricket in India announced the Indian team that will play the 2 Test matches against New Zealand later this month, without the presence of the big players like Rohit Sharma, Jasprit Bumrah, Mohammad Shami and Virat Kohli.
However, it is the exclusion of Middle-Order batsman Hanuma Vihari that has shocked the entire Indian cricket fraternity.
Vihari is India's one of the most dependable Test batsman. Hanuma Vihari has played 12 Test matches for India and has scored 612 runs. He was the Hero for India in the Sydney Test against Australia, earlier in January.
Hanuma Vihari played an heroic inning for India to save the match for India. While the India team was struggling in their 2nd inning, Hanuma Vihari played an inning of 23 runs, yes, but the of 161 balls. That is nearly 30 overs. He, along with Ravichandran Ashwin made sure India didn't lose anymore wicket, or the match could have been easily gone.
Vihari remained not out and let a sight of relief only after India draw the match, keeping the series level.India then went on to win the next match to win the series 2-1.
After India's squad for the New Zealand series was announced today, the fans let out their opinion on the exclusion of Vihari from the team through Twitter. Later, the BCCI announced that Vihari has been added to India 'A' squad for the upcoming South Africa series.
Twitter reacts to Hanuma Vihari dropped for the New Zealand Test series
Below are the some of the Twitter reactions from the fans.
Am I missing something here? I cannot see a reason why #HanumaVihari is not in the test squad for #IndvsNZ. Injury? Can't be on cricketing grounds….there hasn't been any first-class cricket. Surely it can't be right. His last innings for India was that heroic effort at Sydney.

— Harsha Bhogle (@bhogleharsha) November 12, 2021
Harsh call on Vihari 😢😢#HanumaVihari https://t.co/A83KAS3sTE

— Abhishek Ojha (@vicharabhio) November 12, 2021
Hanuma Vihari scored 23 off 161 deliveries against #AUS with injuries. And save India from lost the test match. Now he has dropped from the squad !! This is horrible 😞#HanumaVihari #INDvsNZ#INDvNZ #NZvsINDpic.twitter.com/vqiBFUnlOq

— CRICKET VIDEOS 🏏 (@AbdullahNeaz) November 12, 2021
Hanuma Vihari is one of the best test batsman in Indian circuit,selectors have disappointed every selection!!! #HanumaVihari #INDvsNZ

— Atharva Deshmukh (@Ro45hitian) November 12, 2021
"Took an injection, couldn't feel my left leg" #HanumaVihari describes batting through pain.
He was responsible for #India's famous draw in the third Test against #Aus in January.
We qualified for #WTC final because of him. @BCCI Check the PCT% of point table again.#ShameonBCCI pic.twitter.com/57xYYS7nbF

— سُلْطان | सुलतान | Sultaan (@IamSultaan) November 12, 2021
On what basis are you dropping #HanumaVihari ? Jis player ne injury hone ke bawajood apni body line pe laga di usko yeh reward mila? Bullsh*t !!! Terrible call by the selectors and captain.#vihari #IndianCricketTeam

— Bhoomish Banewal (@Bhoomishbanewal) November 12, 2021
That's really unfair.#HanumaVihari is the only test player who can bat for session to save matches on the verge. We already witnessed in Aus. By the what happened to shardul & sundar…???

— Name cannot be blank (@Here4NTRJr) November 12, 2021