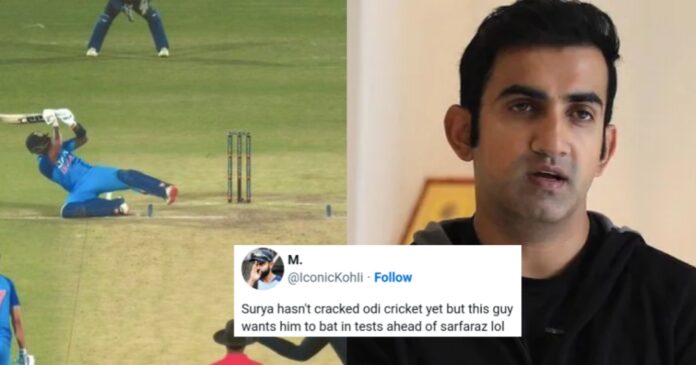 Former Indian cricketer Gautam Gambhir has suggested that Suryakumar Yadav should also the red ball cricket for Team India after he scored a brilliant century against Sri Lanka in the 3rd T20I to win the series for India.
After having both teams won 1 match each going into the 3rd match, the series decider, the Men in Blue captain Hardik Pandya won the toss and opted to bat first.
We first a small cameo from Rahul Tripathi that gave Team India a boosted start. Thereafter, it was all about Suryakumar Yadav. The Mumbai batsman scored 112 runs to take India to 228 runs total and in the end won the match by 91 runs to also win the series.
Meanwhile, Gautam Gambhir believes that Suryakumar Yadav should also play the Test format for India. However, Twitterati believes that Surya should only focus on the T20 format as playing multi-format could ruin his momentum and rhythm.
Gautam Gambhir said, "we will love to see Suryakumar Yadav in Test cricket as well".

— Mufaddal Vohra (@mufaddal_vohra) January 7, 2023
Surya hasn't cracked odi cricket yet but this guy wants him to bat in tests ahead of sarfaraz lol

— M. (@IconicKohIi) January 7, 2023
Rahne do Bhai we need Surya Kumar yadav in t-20 and as a finisher in one day cricket…
Surya should bat at 6 in one day rather than at 4…

— Prakash kasana (@GudduKasana) January 7, 2023
Pls don't do this Mistake & spoil his Focus. pic.twitter.com/EPKeSOk2os

— SR Cricket Fantasy (@CricketFantasyS) January 7, 2023
A great T20 batter and finisher cannot be a great Test batter and finisher.
Evidence:
Hardik Pandya
Shadab Khan

— Sports.world (@moiz_sports) January 7, 2023