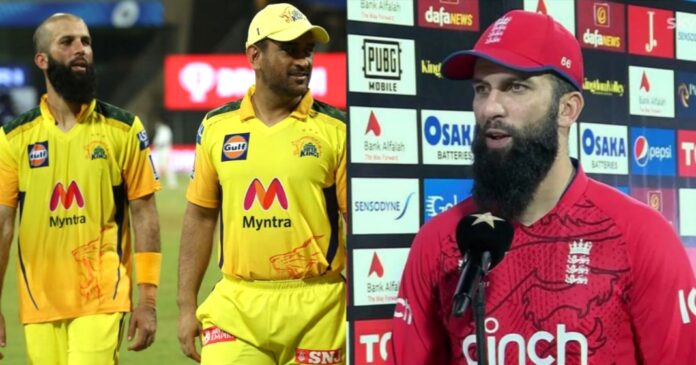 The Board of Control for Cricket in India (BCCI) organised the Indian Premier League (IPL) today not only the biggest T20 cricket league in the world, but also one of the biggest sports league in the world.
The Indian Premier League (IPL) has massively helped the country to improve its cricket since its inception back in the year 2008. The IPL has given opportunities to many young and unknown Indian players an opportunity to impress and make it to the Indian team.
But, not only has IPL helped only the Indian team, it has also massively influenced the overseas players who are coming to play in the tournament and has also helped their country to improve their game.
Recently, Moeen Ali stated that the IPL has played a big role in the success of the team. England won the T20 World Cup 2022 with Rajasthan Royals Jos Buttler being their leader.
After Ali's statement, the Indian fans are now questioning that despite the IPL's record in bringing players to the national stage, Team India has never won a ICC Trophy since the Cricket World Cup in 2011 and the ICC Champions Trophy in 2013.
Moeen Ali (in Cricbuzz) said "IPL has played a big role in the success of the England team".

— Johns. (@CricCrazyJohns) January 15, 2023
Ipl have played a big role in success of every big team bar India pic.twitter.com/ntBOSevmv2

— FGM 🇮🇳 (@pulisicszn2) January 15, 2023
IPL has played a big role in the success of every other nations except India and Pakistan.

— Ravi Desai 🇮🇳 (@its_DRP) January 15, 2023
Everyone except Indian players are benefiting from ipl

— LDP (@ligercross) January 15, 2023
IPL has been beneficial to foreign players more than Indian team….

— Manash Kaushik🇮🇳 (@ManashMpk93) January 15, 2023
We pay them to play cricket with us and help them know our players weakness and strengths, but we won't send our players to play with them. https://t.co/tQpk95qf2L

— 3̶D̶2Y (@vins_saaru) January 15, 2023
It was visible in T20 wc, when England very efficiently and effectively used the match ups, and field positions.
Whereas India was clueless https://t.co/DGbXaIEXmW

— Bharbhuti ji (@crickdevil) January 15, 2023