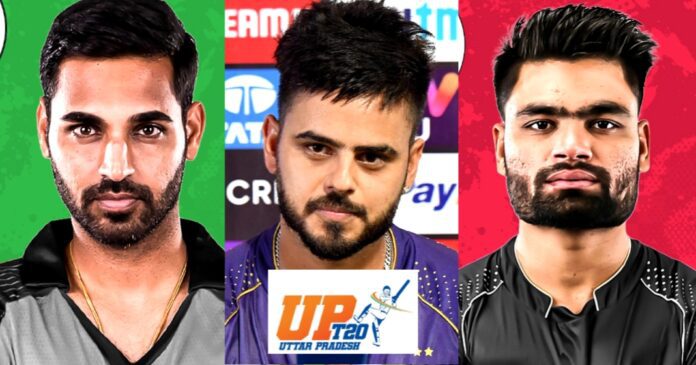 The Uttar Pradesh T20 League (UPT20 League) 2023, is about to kick off its inaugural season on August 30th, organized by the Uttar Pradesh Cricket Association (UPCA). The league phase will commence on 30th August while the tournament will culminate with the final match on September 16th.
During the course of fifteen days, six teams will engage in competitive matches within a double round-robin format. Each team will compete against the other teams twice, leading to a total of ten matches per team. Following this stage, the top four teams will advance to the knockout rounds, which include the two semifinals and ultimately the final match.
The Green Park Stadium in Kanpur will host a total of 33 matches, encompassing the two semifinals on September 15 and the final on September 16. The tournament's span will cover 18 days, featuring double-header matches each day except for August 30 and September 14.
The first match of the double header day will be played from 3:30 PM Indian Standard Time (IST), while the 2nd match will be played from 7:30 PM Indian Standard Time (IST). The single matches will also be played from 7:30 PM (IST).
The UPT20 2023 will showcase six teams, they are Gorakhpur Lions, Kanpur Superstars, Kashi Rudras, Lucknow Falcons, Meerut Mavericks, and Noida Super Kings. These teams will include notable players from Uttar Pradesh, such as Bhuvneshwar Kumar, Rinku Singh, and Nitish Rana who just recently jumped ship from Delhi to UP.
The inaugural season will commence with a match between Kanpur Superstars and Noida Super Kings. This will be followed by a double-header featuring Gorakhpur Lions against Lucknow Falcons, as well as Kashi Rudras vs Meerut Mavericks on the 2nd day.
Now many Indian cricket fans are excited to witness the best of Uttar Pradesh feature in this league. But the question, how can one watch the Uttar Pradesh T20 League 2023 live in India. Find out the details below.
How to watch Uttar Pradesh T20 (UPT20) League Live Streaming?
For those of the cricket fans who won't be able to travel to the stadium to watch the matches, the UPT20 League matches will be available for absolutely free to watch on Jio Cinema app and website.