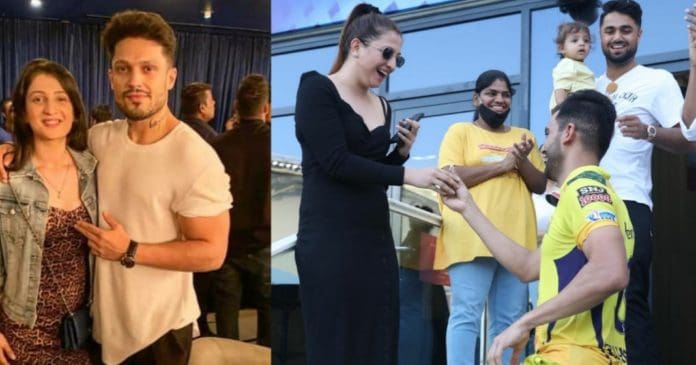 Deepak Chahar got engaged to his girlfriend Jaya Bharadwaj after the IPL 2021 match between the Chennai Super Kings and the Punjab Kings at the Dubai International Cricket Stadium. The CSK all-rounder proposed to Jaya in the stands and she said YES.
Initially, fans did not know who is Deepak Chahar's girlfriend. His sister Malti then disclosed her identity. After some fans guessed that Deepak was getting married to a foreigner, Malti clarified that Deepak's future wife is not a foreigner. Her name is Jaya and she is from Delhi. Here's what she tweeted:
"And my brother is taken @deepak_chahar9 Lo mil gayi bhabhi She is Jaya Bharadwaj and she isn't a foreigner…Delhi Ki ladki h. God bless you both."
In case you didn't know, the news of Jaya and Deepak's rumored relationship had first come out on August 31, 2021, when a source close to Bollywood Life informed to the media. Here's what Zoom TV had reported:
"Reportedly, the duo is very serious about one another and are even planning on getting married. According to a source close to Bollywood Life, the pair is planning to do a roka very soon and Jaya may also go to Dubai to be with Deepak. Deepak apparently has also has introduced her to the entire cricket team."
Deepak Chahar's girlfriend is the sister of Siddharth Bharadwaj
In the same article it was mentioned that Jaya is the sister of Siddharth Bharadwaj. She has appeared on reality shows like Splitsvilla 2 and Big Boss 5. She has a private account on Instagram, with over 1,000 followers.
Deepak Chahar will try to help the Chennai Super Kings win the 2021 Indian Premier League season and make his engagement more memorable. The video of his engagement has gone viral on Instagram platform as it has received over a million views.