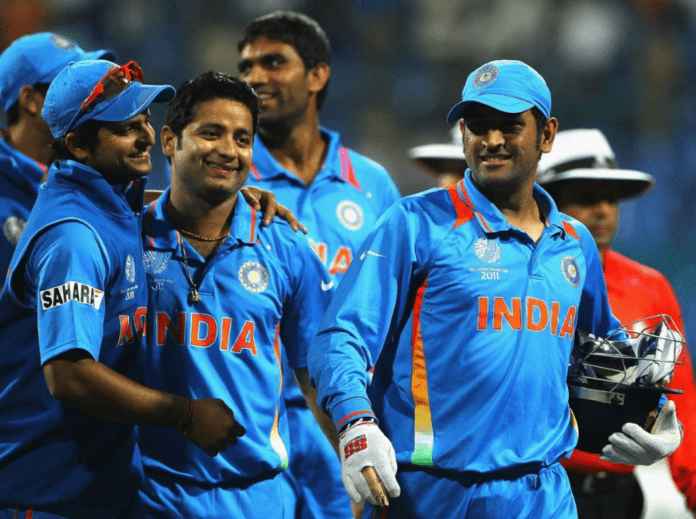 India's 2011 World Cup winning team will always have a special place in the hearts of the cricket fans. 11 years ago, the Indian cricket team became the first in the sport's history to win a Cricket World Cup Final on home soil. MS Dhoni's six helped India win their second World Cup as they beat Sri Lanka in the summit clash.
The likes of Sachin Tendulkar, Virender Sehwag, Dhoni, Suresh Raina, Harbhajan Singh, Munaf Patel, Zaheer Khan, Yuvraj Singh and other veteran players played for India that year. 12 of the 15 team members have retired, and the following three are the ones who are still playing actively.
1. Virat Kohli – Only non-retired player from India's 2011 World Cup Final XI
Virat Kohli is the only name from the Indian team's 2011 World Cup Final playing XI who is still playing. Kohli played nine matches in that mega event. The right-handed batter aggregated 282 runs at an average of 35.25. He scored a ton against Bangladesh on his CWC debut.
2. Ravichandran Ashwin
Because of Harbhajan Singh's presence, Ravichandran Ashwin did not get enough chances to play for the nation in that mega event. But the off-spinner performed well in the few matches he played. The Tamil Nadu-based star ended the tournament with four wickets to his name from two matches.
3. Piyush Chawla
Leg-spinner Piyush Chawla played for the Men in Blue in three games of that mega event. Chawla picked up four wickets in three games, but his economy rate was more than 6.
While Ashwin and Kohli regularly play for the Indian team, Chawla has not played international cricket since 2012. In fact, his last ODI appearance for the country came against the Netherlands during the 2011 CWC. It will be interesting to see if the leg-spinner can make a comeback to the Indian team.