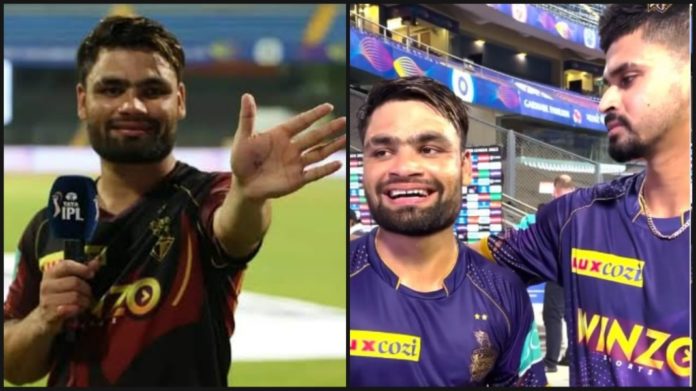 The 47th match of IPL 2022 happened yesterday where the Kolkata Knight Riders defeated the Rajasthan Royals by 7 wickets. A fantastic partnership between the left-handed duo of Rinku Singh and Nitish Rana helped the Kolkata-based franchise snap their five-match losing streak in IPL 2022.
Singh won the Man of the Match award for his impressive innings of 42 runs off just 23 deliveries. After the match ended, the left-handed batter had a hilarious interaction with Shreyas Iyer. The Kolkata Knight Riders captain tried to teach his teammate some basic English that would help him speak confidently in the interviews.
However, Singh clarified that he only wants to be confident now in batting and not in English. Interestingly, the Kolkata Knight Riders deleted the video from their social media account a few hours after it was uploaded. Here's what Rinku was quoted as saying by Sportskeeda in that video:
"I…confidence only in batting, no interview! (laughs). I am going to batting..with Nitish Rana (laughs). So he is tell me.. calm calm, finish the game (asks Shreyas to stop.)"
Shreyas Iyer feels Rinku Singh will be a key player for the Kolkata Knight Riders in future
Shreyas Iyer told Singh in the now-deleted video that he should learn English because he will be a key player for the Kolkata Knight Riders and win more awards in the future.
"Over there (presentation ceremony), they are going to ask you anything. So you need some confidence, man. In future you need some English. You have to keep on improving now. Because you are gonna be a key player for KKR in future," Shreyas told Rinku.
It will be interesting to see if Rinku Singh can continue in the same vein and help the Kolkata Knight Riders build a winning streak in IPL 2022. Singh has earned everyone's attention and now he become a big name if he plays with consistency.