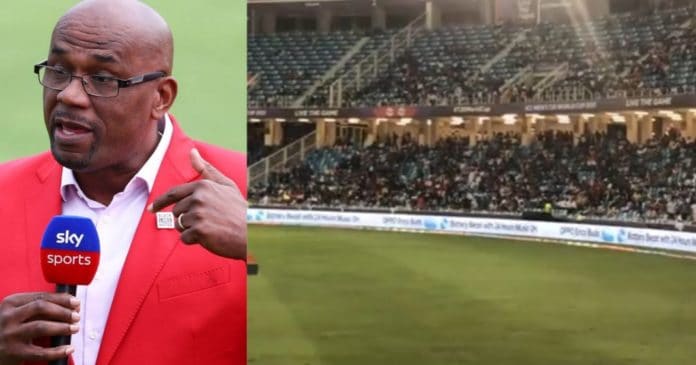 Former West Indies cricketer and now commentator, Ian Bishop has took to the social media to praise the Indian cricket team's fans after the India vs Namibia match in the T20 World Cup 2021.
The Indian cricket team played Namibia in their last match, as well as the last match of the Super 12 round, of the T20 World Cup 2021. This also marked the end of an era of Virat Kohli as India's T20 captain as he stepped down as India's T20 International captain.
The Indian cricket team didn't progress through to the next round, the semi-finals of the T20 World Cup 2021, due to India suffering 2 major defeats in their opening 2 matches of the competition against Pakistan and New Zealand.
Even though India strike a comeback from the Afghanistan match, to win against Scotland and Namibia, it was just not enough as New Zealand qualified as the 2nd best team from the Super 12 Round's Group 2.
But even after all of that and India not progressing to the semi-finals, the huge number of crowd turned up for India's match against Namibia on the 8th of November in Dubai.
Ian Bishop louds Indian fans
Seeing that, former West Indies cricketer Ian Bishop posted a video on his Twitter handle, in which, the now commentator, praised the Indian fans for backing the Indian team.
He said in his post that he was really happy to see huge number of fans turn up for the In India vs Namibia match and cheer after India won the match. He also asked the fans to be faithful to the Indian team and the players and asserted that India will bounce back strong.
Was so good to see so many fans of the Indian team attend their final game vs Namibia and cheer the victory. Stay faithful and your team's time will come again. Just as it will for others👍🏼👍🏼. pic.twitter.com/AmsY0qVNYQ

— Ian Raphael Bishop (@irbishi) November 8, 2021
Ian Bishop's video that he posted on his Twitter handle, was of the moment when KL Rahul hit the winning runs for India and the crowd in attended just roared after that.
India vs Namibia T20 World Cup 2021
Talking of India vs Namibia match, it was Virat Kohli's final match as India's T20 skipper whereas Head Coach Ravi Shastri's last match as the Head Coach of the Indian cricket team, he will be replaced by Rahul Dravid.
Namibia posted a strong score 132 runs, which is quite commanding for a team of the stature of Namibia playing against a top team like India. David Wiese was the top scorer for Namibia as he scored 26 runs. Jadeja and Ashwin got 3 wickets and 2 wickets for Jasprit Bumrah.
Indian opening pair of KL Rahul and Rohit Sharma was strong once again as both scored before the latter got dismissed by Jan Frylinck for 56 runs. KL Rahul scored unbeaten 54 runs. Suryakumar Yadav scored 25 runs to wrap it off. India won by 9 wickets.