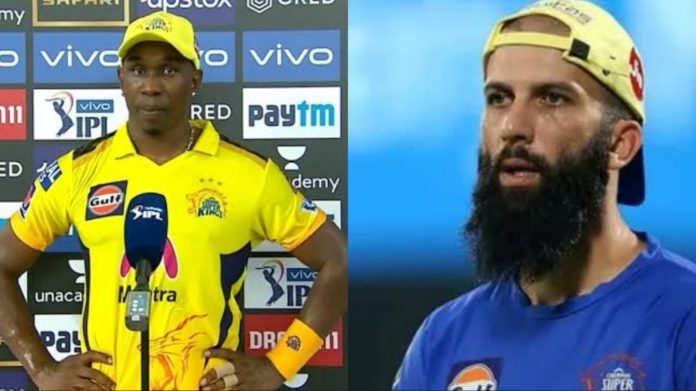 Chennai Super Kings all-rounder Bravo recently inked a deal with England's Worcestershire county to play for them in T20 Blast later this year. Dwayne Bravo revealed in an interview that it was Worcestershire captain and his Chennai Super Kings teammate Moeen Ali who asked him to join the county while they played in the Bangladesh Premier League.
The 2022 edition of the Bangladesh Premier League happened earlier this year. While Moeen Ali and Dwayne Bravo were not in the same franchise, they were a part of the same bio-bubble. In fact, Ali played with his former Chennai Super Kings teammate Faf du Plessis for the Commilla Victorians, while Bravo was a part of Fortune Barishal team. Fortune Barishal and Commilla Victorians battled in the final, where the Victorians won the game.
Speaking of the conversation that happened between Moeen Ali and Bravo, the former West Indies captain was quoted as saying by ESPNCricinfo:
"When Moeen mentioned the possibility of me coming over for the Blast whilst we were both at the BPL, it was an opportunity I wanted to seriously look at. The Vitality Blast is one of the domestic T20 titles that I am yet to win and I will be working hard to help the team achieve success."
Moeen Ali and Dwayne Bravo will play together for Chennai Super Kings in IPL 2022
The 2022 edition of the Indian Premier League will start tomorrow. The first match features last year's champions Chennai Super Kings and runners-up Kolkata Knight Riders. Moeen Ali will be unavailable for the first match because of quarantine, but Dwayne Bravo is available.
It will be interesting to see how the defending champions perform in their first match of the new season. Ahead of IPL 2022, MS Dhoni assigned the reins of the Chennai Super Kings team to Ravindra Jadeja.